Are you interested in a career in healthcare? Do you like the idea of giving direct care to patients? Would you like to be a part of a team committed to healing and improving lives? If yes, you should consider becoming a Certified Nursing Assistant (CNA). In this article, we will discuss all there is to know before enrolling for a CNA course.
What exactly is a CNA (Certified Nursing Assistant)?
A certified nursing assistant provides most of the personal care a patient needs. Their duties include bathing and cleaning patients, helping them eat, dress, use the restroom and many more. CNAs can also do other minor nursing duties, such as measure a patient's temperature and blood pressure as well as listen to the concerns of patients and report them to other nursing staff when needed.
The roles of a nursing assistant vary depending on where you live and work. CNAs are trained to work in a wide range of settings including hospitals, assisted living facilities, personal homes, adult day care centres and nursing homes. These healthcare providers act as a helpful liaison between the Licensed Practical Nurse or the Registered Nurse. They relay information between patients and nurses. Since CNAs have daily contact with patients, they are able to gather important information about the patient's condition, which they must then transmit to their supervisors.
The workload of a Certified Nursing Assistant can become fast-paced and intense depending on their work settings. However, the human contact and ability to help those requiring medical assistance is a strong motivating factor. Their strong compassion for patients and desire to assist people in need help them to get through the hard days of their career.

Benefits of a Career as a Certified Nursing Assistant
· Choose Your Preferred Work Environment
If you become a CNA you have the power to choose where you want to work. You can work in a wide variety of settings depending on your strengths and preferences. You can work as a home health care worker, in hospitals or in a hospice situation. Each of these work environments offers different benefits. Working schedules are also more flexible, which is advantageous if you are raising a family or continuing with education.
· Affordable Training Programs
Nursing assistants can complete their training in various settings from vocational colleges, to communities or hospitals. You can even train in private schools. Some companies may also choose to train you for free while you make a commitment to work for them for a specified amount of time. CNA Training Programs are also very affordable and usually range from $300 to $1500.
· Potential Career Avenues
Aside from emotional rewards, a CNA position can also be an avenue to other desirable healthcare careers. Since nursing assistant get valuable experience while caring for patients they become solid candidates for nursing school. This means they can easily qualify for RN or LPN training programs. Some nursing schools even offer accelerated programs for highly experienced CNAs willing to work as RNs and LPNs.
· Ideal for Compassionate Persons
A nursing assistant takes care of a patient's hygiene needs and keeps track of all essentials. This career is ideal for people who love caring for others. Healthcare providers who become CNAs find a sense of fulfilment and purpose as they assist people with their most basic activities. Working as a nursing assistant is emotionally rewarding especially in long-term care situations.
2. How much does a certified nursing assistant make?
According to the U.S. Bureau of Labor Statistics, the median hourly wage for a certified nursing assistant is $15 as of March 29, 2018 with an hourly range usually between $14 to $17. This, however, varies depending on a variety of factors. One of the determining factors is the state or location you choose to practice as a CNA. The certified nursing assistant salary for those working in New Jersey, California, Maryland, Connecticut, and Nevada lies anywhere between $20,000 to $30,000 per year.
However, big cities pay their nursing assistants more. According to the recent statistics, Alaska is the highest paying state offering a CNA salary of about $16.68 per hour. New York is the second state with an average hourly salary of $15.50. Nevada is the third state with an hourly rate of $15.20. States such as Arkansas, Louisiana, Mississippi and Alabama offer the lowest hourly rate of no more than $11.
Top Factors Affecting the Certified Nursing Assistant Salary
Although the annual CNA salary ranges from 20,000 to $30,000, it does not mean that all nursing assistants will be offered the exact the salary as their starting salary. Like we stated earlier, the salary of a certified nursing assistant depends on a wide range of factors. Here are some of the top factors that determine the annual salary of a CNA.
Healthcare Facility/ Employer
One of the major factors affecting the CNA salary is the type of healthcare facility or employer. If you do not choose your employer in caution, you may end up getting a lesser salary than you deserve. Hospitals provide the highest pay while nursing homes offer the lowest pay. Here are some of the top employers and what their average offer is for a CNA annual salary:
· Professional school, universities and colleges: $31,030
· Substance Abuse Centers and Psychiatric: $28, 290
· Hospice: $27, 191
· Nursing Home: $24,946
· Hospitals: $24,010
· Community Care Facility: $21,840
· Home Health Care Services: $19,769
Experience
The higher the experience, the more you will get paid. Highly experienced certified nursing assistants are beneficial to any organization than fresher CNAs. Experienced nursing assistant is also subjected to get additional facilities, such as retirement plans, health insurance coverage, financial assistant to advance the career. However, these benefits, as well as salary figures, depend on the rules and regulations of the employing institution.
Economic Condition
The economic condition of the state and facility is another determining factor of a certified nursing assistant salary. If the state or facility has a strong economic condition then employees working there are more likely to get a higher salary.
Negotiation
Just like in other industries, you need to negotiate to get a proper salary. Make sure you negotiate for a good salary, which is in line with the standards of your area. To increase your CNA salary, consider taking more nursing courses.
3. Certified Nursing Assistant Schools and Training
Today, more and more Americans are becoming concerned about their health and thus seek medical attention. If you are interested in nursing, then this is the best time to get into the profession. With numerous institutions offering CNA courses across all states, you can no longer claim that CNA classes are not readily available near you.

Why You Should Enroll to the Best CNA Schools
It's true there numerous schools in the U.S. offering CNA courses. In fact, most of these schools are now offering online programs to train you at the comfort of your home. However, it is important that you enrol with the best schools. Note that quality of training is vital in dealing with the challenges of the nursing assistant profession. Additionally, most employers will only employ CNAs who have been trained in schools that are fully accredited.
The Top 5 CNA Institutions in the United States
The U.S. is endowed with numerous top quality CNA and nursing schools. However, it is difficult to list all of them on paper. In this guide, we have only included the very best 5:
The American Red Cross has been offering CNA courses for over two decades. Courses are offered at the institution's branches found across the nation and are considered to be the best CNA school worldwide. Tuition fees vary from one branch to another but generally run from $670 to $1900.
2. York College
Established in 1967, York College is liberal arts and science school. The school provides a wide range of programs, including health and business-related courses. York's College CNA curriculum has theoretical instructions, practical applications in clinical settings as well as internships that prepare the students to pass the CNA Examination for the New York State Department of health.
The cost of the program is highly affordable as one can complete the program for under $1300. The program entails 90 hours of classroom and lab instructions as well as a 30-hour externship.
Century College is accredited by the Higher Learning Commission. It offers Associate degree programs, diplomas and certificates in over 40 areas of study. CNA classes are done online. Students are however required to attend labs and clinical rotations at a long-term healthcare facility. After completing the course, students are required to take a National Certification exam to become a certified nursing assistant. The fee for the online program is $185 per credit hour.
4. Career Colleges of America
Career Colleges of America is accredited by the Accrediting Council for Continuing Education and Training. The school offers numerous courses including courses on nursing and patient health, safety measures and infection control as well as courses on dealing with patient and communication. The entire training program costs around $2,400. Students must complete a clinical externship so as to graduate.
Maine Medical Center provides an 11 weeks daytime program to train students to become CNAs. All students are required to take the Maine Certification exam once they have completed the program. The cost of the program, including books, is covered by the Maine Medical Center.
Certified Nursing Assistant Training
Even though CNAs do not require a bachelor's or an associate's degree, specific training is still needed. Remember you will be responsible for the care of others, thus it is essential to understand the right procedures and protocol. CNA certification classes prepare students for their state licensure examinations. The exams measure your nursing knowledge, skills and judgment.
The Certified Nursing Assistant programs will teach how to care for patients in a wide range of ways. Even if you did not pay attention to physiology and anatomy during high school, CNA training will cover these topics thoroughly. You will learn about the different body systems, ranging from the endocrine system, digestive system to the nervous system.
Prerequisites for the CNA Program
One of the main benefits of a CNA program is the limited requirements you need to before enrolling. If your educational background is minimal and you may want to work in the medical industry, CNA is the best option.
Each institution is different, but you can typically expect the following prerequisites:
· A GED or high school diploma
· Some programs may require you to have a past health care work industry experience, such as being an aide in a hospital
· You should be at least 18 years of age ( Some states consider students having 16 years also eligible
· You should not have any involvement in criminal activities in the past
· Proficiency in English is compulsory
· You should have certain traits, such as empathy, compassion, caring attitude and emotional stability
· Should not be pregnant
Course of CNA Education Programs
CNA certification classes are divided into two portions: in-class learning and clinical practice. The in-class learning sessions cover the following topics:
· Medical terms
· Preventative healthcare measures
· Anatomy
· Legal and ethical issues in nursing
· General healthcare
· Physiology
· Human bodily functions
· Basic nutrition
· Emergency measures
· Mental health disorders
· Patient rights
Clinical sessions instill skills such as
· Record keeping
· Taking care of basic nutrition
· Repositioning patients
· Basic hygiene and patient care
· Infection control
· Grooming and feeding patients
· Bed making
· Recording vital signs, like temperature, blood pressure and pulse rate
· Proper medication
4. CNA Duties and Responsibilities
A Certified Nursing Assistant is considered a team player, when it comes to tasks and responsibilities. CNAs have to work for long hours, and that is when they have to take charge of numerous critical duties on a daily basis. Here are some of the major CNA duties and responsibilities.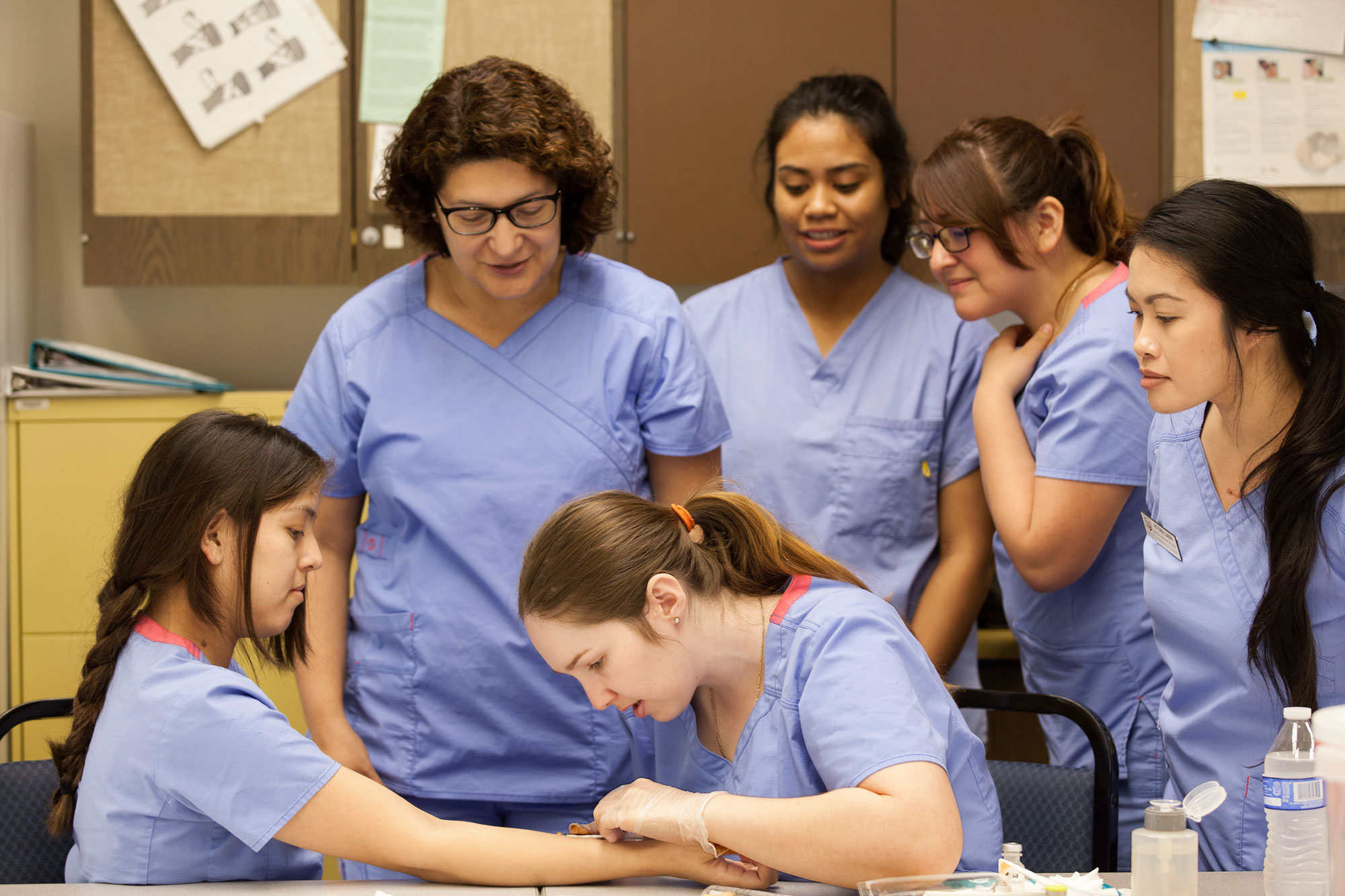 CNA Job Description and Responsibilities
Providing Patient Care
This entails applying dressings, directing exercise routines as well as supplying and draining the bed pans. Additionally, you may also have to assist patients while coming in and out of bed, exercising and walking. Repositioning and turning bedridden patients, shifting patients to treatment units with help of a wheelchair or a stretcher also comes under patient care, providing patient care treatment to prevent bedsores.
Collecting specimens
Taking sputum specimens and samples of feces or urine for lab testing is also a major duty of a nursing assistant.
Changing Bed Linens and Cleaning Patient's Room
Since patients are not usually in a condition do their core duties, such as bath, make their beds, clean their beddings, it is the work of the nursing assistant to carry out those patients.
Managing treatments and medications
CNAs are responsible for carrying out crucial patient processes, such as massages, douches, enemas, suppositories, irrigations, catheterizations etc. directed by a nurse or a physician.
Adhering to the occupational standard
A certified nursing assistant is required to adhere to their professional standard while performing their duties. You are not only required to follow hospital procedures and guidelines, but stick to the local, state and federal requirements too.
Maintaining Work Operations
You will be required to maintain your job duties as well as follow procedures and policies of the facility you work.
Taking care of meals and feeding
A nursing assistant is required to help patients in their daily activities, such as ambulating and position patients, feeding the patients, serving meals, supplying fresh to patients among other duties.
Assisting patients in their personal hygiene
CNAs are responsible for assisting patients in maintaining their personal hygiene. This may include shampoos, shaves, brushing their teeth, back rubs urinals, baths, bedpans and etc. You may also have to support patients by assisting them in the bathroom and helping them take a bath.
Listening to the Health Concerns of Patients
Another key role of a nursing assistant is to assist the Register Nurse in doing his or her job. One way of doing this is to talk to patients while doing your work. You need to listen to their health concerns and record them in notes. After that, you need to report this new health info to nurses in an accurate fashion.
Preparing the Patient for Surgery
CNAs work to prepare patients for operation or surgery, if they have to undergo any.
Equipment Usage
Certified Nursing Assistant help nurses in handling equipment, such as bedpans, anti-embolism stockings, bladder scanners, ventilators etc. CNAs are also responsible for cleaning medical equipment and also ensuring that they are properly sterilized.
5. Certified Nursing Assistant Jobs: Facts and Figures
According to the Bureau of Labor Statistics (BLS), the employment for certified nursing assistants is expected to grow by 11 percent from 2016 to 2036. As the baby-boom population ages, CNAs will be hired to assist them in their daily activities. According to the Bureau of Labor Statistics, the expected median annual for CNAs was $27,520 in May 2017.
Due to the nursing shortage in most states in the U.S., careers in nursing are in high demand. This means that if you begin your career as a CNA today, you can further your nursing career and get a better job. BLS reports that the biggest employers of nursing assistant include:
· General medical and surgical hospitals
· Assisted living facilities for elderly and continuing care retirement communities
· Nursing care facilities
About competition, it is important to note that nursing homes, hospitals and long term care facilities operate around the clock, meaning that CNAs will have to work for long hours nights, weekends or holidays. To beat the competition, you should be willing to work overtime. This will make you a more desirable candidate.
6. Comparison of CNA With Other Similar Occupations
6.1: Licensed Practical Nurse (LPN) Vs. Certified Nursing Assistant
Both licensed practical nurses and CNAs play an important role in providing routine care to patients in hospitals, nursing homes and other long term health care centers. Their duties are nearly similar, except that an LPN has more technical and supervisory responsibilities than a nursing assistant. Both professions have certain differences in terms of scope of practice, coursework, and salary. Let's examine them in details.
· Scope of practice
LPNs report to Registered Nurses (RNs). They can carry out the duties of a certified nursing assistant. Licensed practical nurses act as supervisors of CNAs. CNAs can perform the job of a LPN, but are not authorized to take independent decisions.
· Salary
When compared to CNAs, LPN salary is much higher and may earn an average salary of $40,900 with hourly range of $12 to $25. CNAs earn an average salary of about $24,040 annually.
· Duties and Responsibilities
LPN jobs include dressing wounds, conducting minor surgeries, filing medical reports, performing lab tests, giving injections and enemas as well as monitoring catheters. The primary role of a nursing assistant is to take of the crucial needs of a patient as discussed earlier.
· Examination
To acquire an LPN license, you must pass the National Council Licensure Examination for Licensed Practical Nurses. To acquire a nursing assistant certificate, you must qualify the certification examination organized by the concerned state.
6.2 Registered Nurse VS. Certified Nursing Assistant
Both RNs and CNAs work in the same industry. They have unique duties and responsibilities and it important that you know the difference between both careers. You can use this info to plan your future profession.
· Scope of Practice
RNs supervise LPNs and CNAs. They work closely and directly with patients to accomplish the duties and tasks of a nursing assistant. CNAs, work under the supervision of RNs. They cannot carry out the duties of a registered nurse nor can they take their own decisions.
· Salary
RN salary ranges from $22.11 to$ 30.80 per hour. The average annual salary ranges from$41,190 to $79,789. CNAs earn an average salary of about $24,040 annually.
· Duties and Responsibilities
Registered nurse jobs include assigning tasks to CNAs and LPNs, administering medications and injections, dressing wounds and many more. They rank among the top in the medical industry hierarchy. CNAs provide basic care to patients. They hold a very low position in the hierarchy.
· Licensing/ Certification
To acquire an RN license, you must past the National Council Licensure Examination for RNs. To acquire a nursing assistant certificate, you must qualify the certification examination organized by the concerned state.